This is a subject that has been hanging at the back of my mind for the last two months. I thought about this metaphor on a journey back from a client one day…when my mind generally works back over the outcomes from the day and what I have learnt from it.
In the kind of work I do – I tend to come across people who really question the "way the world is going" in terms of technology and how it has filtered into just about every corner of our lives. I am for one…in favour of advances in technology – because I synonimise it with change (for the better) and simplifying my life.
Now – of course, there are those of you reading this who will say "Simplify? Are you mad Shelley?" Well, maybe I am – but bare with me. I am teaching my two year old to learn how to work just about everything in my house, because my theory is she is going to grow up with technology that hasn't even been invented yet….so if she absorbs things now and adjusts at her age – I'm teaching her to have an open awareness of technology without her even knowing that it's "technology".
As grown ups – I can see how it can be harder to adjust – especially for those of us who can remember when email first came about…and for the slightly older of us all…who can remember when the internet made a massive impact to the way we used and accessed information…and in marketing our businesses.
My answer to people who voice their concern that we are losing the art of "touch" and of the subtly of human face to face interaction, I say:
Technology is a facilitator, not an aggravator – even though it sometimes may feel that way. Just because you use technology, this does not mean that you should look at it as losing the art of human interaction – in fact it should heighten it. Technology facilitates the ease of communication…although more often than not, when I come across people with some real fears about using social media and using it via pc's, iPads, iPhones, Blackberrys, laptops, etc…it's because they have seen some of what other people have done. Our philosophy when we train our clients on social communication is the same as we would train anyone on building rapport; the courtesy of listening; matching your converser where they are;…then sharing where you are;…and hopefully finding a happy plain where you can communicate. There are quite a few people who use Social Media in a way that does leave you wondering what kind of people they are in "real life". However I think this is more about these people not "thinking before they post"…they forget that it's online; has the potential for being viral; and that when you can't physically see every reader you are posting to…you cannot know where they are "at" and you should consider how you will be represented.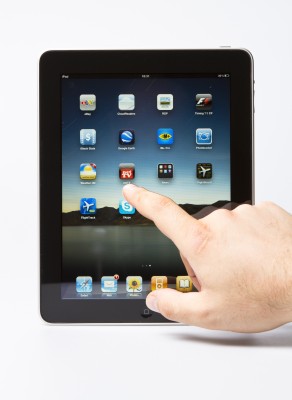 In a business sense, this couldn't be more true. If you think about Gorilla Glass – the fantastic, intelligent touch sensitive glass used on iPads and other Apple gadgets (it may well be on other products, but that's not the point for now)…you can easily match the importance of touch next to advance in technology. In order to get an iPad or iPhone to do what you want it to – you need to touch the screen in exactly the way it will understand what you want. This is the point that resonated with my understanding of the complexity and sophistication of communication nowadays. In order to really reach an audience (online or otherwise) you will really achieve a better reach and engagement level if you understand the audience; how they want to be communicated with; and what you need to do to match them where they are (in terms of perspective or perception)…and lead them to you as a business.
If we could all pretend that Gorilla Glass separates us from our audience…maybe we'll be more appreciative of the value of the sensitivity of communication and that there is a beautiful elegance to it.