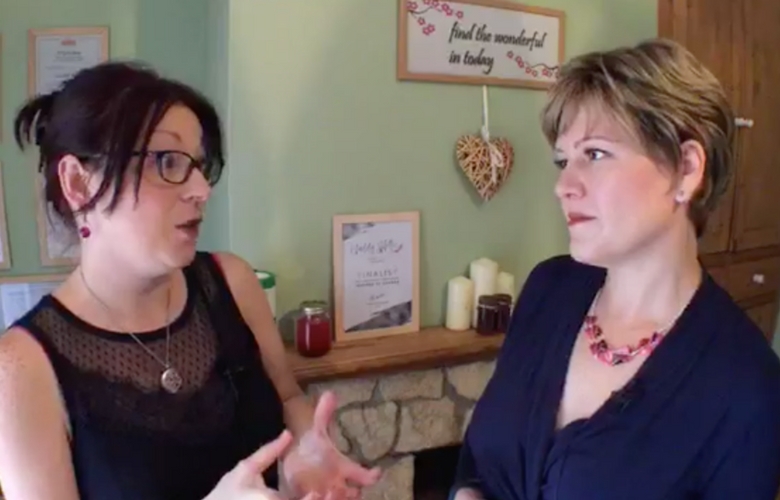 This is a series where we go out and have a Facebook Live interview with a local business owner. We talk about their business, what the story is behind why they started their specific business and how they are using social media to support their ambitions.
In this interview, we talk to Caroline Prout, who runs her Hypnotherapy Practice from Islip (near Thraptson) in Northamptonshire.
Caroline Prout's background…
In the video, you'll learn about the three career Caroline has had – and what her journey to entrepreneurship has been like. Like Ellen, in our previous interview, she has had quite a tough personal path to choosing the business she specialises in today. Her passion going forward is to help other people who may have felt the way she did about her health.
Caroline started out as a veterinary nurse in London and had a dog walking (and animal behaviour training) business on the side.
She is the kind of person who gives 150% to everything she does, so it was inevitable that she would run out of steam at some point. In the interview, Caroline shares her journey back to health, after being diagnosed with Chronic Fatigue Syndrome. This also leads to her finding hypnotherapy and to the business she runs today.
Hypnotherapy is one of those complementary therapies which I think a lot of people don't really understand, so a lot of Caroline's digital content work is based around educating her prospective clients on her approach.
If you have wondered about what a hypnotherapist does, and what it actually means in practice then be sure to watch the video.
Being a business owner…
Caroline talks to me about starting her current Hypnotherapy business and how she has applied her learning from previous businesses and experiences to this home based therapy business. She is (at the point of this interview) about three and a half years into the business, and is incredibly enthusiastic and energic when talking about the differences she has brought to her clients' lives.
How does Caroline use social media in her business…
Caroline is a pretty tech and digitally savvy lady and very early on she realised the benefit of having a solid web presence and really understanding the backend to websites and systems.
She mainly uses LinkedIn and Facebook and is very much looking forward to implementing a stronger video content strategy to keep up with the demand for this across all social channels.
I hope you enjoy watching the interview
We really enjoyed our time with Caroline and while the interview is around an hour long, it is packed all sorts of different information for you. You'll find:
your frequently asked questions answered about hypnotherapy,
you'll get an insight into how an associate based business model works
and hear a bit about some challenges that Caroline has with content (much like most small businesses)
She is a joy to be around, and her therapy room is just built for the wonderful calming brain work that she does. Please do watch the video and if you have any questions to pass on to Caroline – you can still post a comment on the video, or below and she and I would be happy to still answer your questions.
Remember that you can still ask questions on the recorded interview – she and I will still happily answer your comments and questions.
You can find Caroline here: Website | Facebook Page | Twitter | LinkedIn | Email
Here is the Live interview that we did on the 27th July 2017, on our Facebook Page:
If you would like to get a reminder or notification when our next Live interview will be – be sure to go over and "Like" our Facebook Page to get those reminders. We will be posting on Facebook, Twitter and Instagram about our next interview – which will be with Lisa Brice, a Master NLP Trainer, based in Pitsford, UK.
You can also read my resource blog post all about:  Facebook Live and how to use it in your business.
Do you know a business who would be interested in being interviewed live on Facebook? We are keen to talk to businesses who are either enjoying the social media space or would love some insights into what they could be doing on social media. Contact me by email, Facebook Messenger or by commenting below.