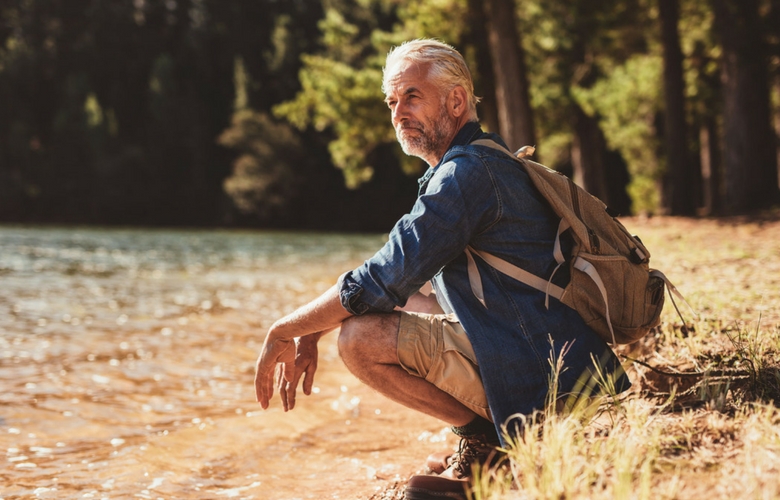 Finding time in your day, your week, your month to just PAUSE is rare. Until recently I would have said to you – I just don't have time to think. I felt "full-up" – my brain wasn't able to take in or process any more information. Then…I met Duncan Wardle of ID8 & Innov8.
Creative thinking is the key to innovating…evolving your service, your delivery, your products and the way in which you care for your clients/customers.
What I haven't completely gotten on a logical level is that you need the space for thought. I know you will say: Isn't that obvious? But I have literally been so busy in my business and deep in delivering my service to my clients that I have made no space for thinking at all. That is, the clear, clean space to allow my creative juices to flow.
Barriers to creativity
I went to a workshop at Social Media Marketing World run by Duncan Wardle, who has 25+ years of working for Disney behind his name. The world leaders in creative thinking and imagination. I adore much of the Disney philosophy so I was inspired to go to this…just for that alone. The first part of his session was focused on what the barriers to creativity are. This really got me. (Check out his impressive drawings below).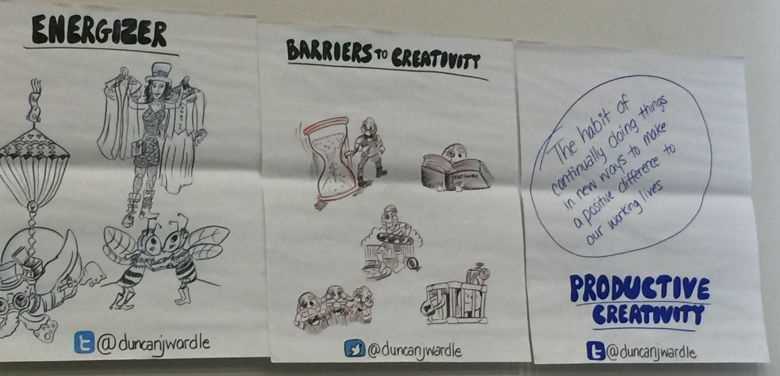 Here are his top barriers to creativity:
(a) Process
Ideas, Duncan says, are diluted by process. That right there folks is where he had me. I am a process girl born and raised. Everything in our business is process driven in order to get things moving swimmingly for clients and for managing a team. BUT, says Duncan, don't let process over ride creativity. Allow a free flowing space where you can think and dream…and leave process to the side. Consider: "What if"….or "Imagine if".
(b) Budget
This is a biggie. When you are running a small business and small team…or growing at a steady pace with limited resources – budget drives everything. Having no budget tends to demolish the capability to think big…or dream without limits. So…sometimes entrepreneurs are stumped before they have even considered being creative.
(c) Time
Allow for the space for free flowing thought and the quintessential brainstorming time. Book time in the diary for thinking! I wrote this down specifically to take action on. I know that I KNOW this…but when he said it – it really shouted at me: Shelley, remember when you used to do this? DO IT.
(d) Consumer Insight
I guess this one was for larger organisations, but we could view this at really getting feedback from clients/customers. He said that so many businesses under utilise consumer insights when looking at how to innovate and look to the future. By bringing your customer/client into your creative process – you are getting valuable third dimensional feedback.
(e) No common definition of creativity or innovation
One man's desert is another man's paradise. Not sure if that is a saying, but it makes sense to me. Basically Duncan shared that often in business, when someone says: "Let's get creative, and bat around some ideas" – there needs to be some parameters in understanding what everyone's understanding is of "innovate" "ideas" or "creativity". This way you can be sure that everyone's contributions will be valued equally.
Guess what? I found the workshop – he has done a very similar one for IZEA Fest. So if you have about 50mins and would like to get inspired – watch the video below.

Build creative thinking into your business
I am very interested in how you have perhaps ensured that creative thought is baked into your business. I always thought I was a creative at heart and I'm wondering if all my "processing" activity has driven away my creative little heart. It's time to build some clear space for thinking time each week I think. There is time…I just have to allocate priority to it. Will you join me in getting our creative spark back into our business?