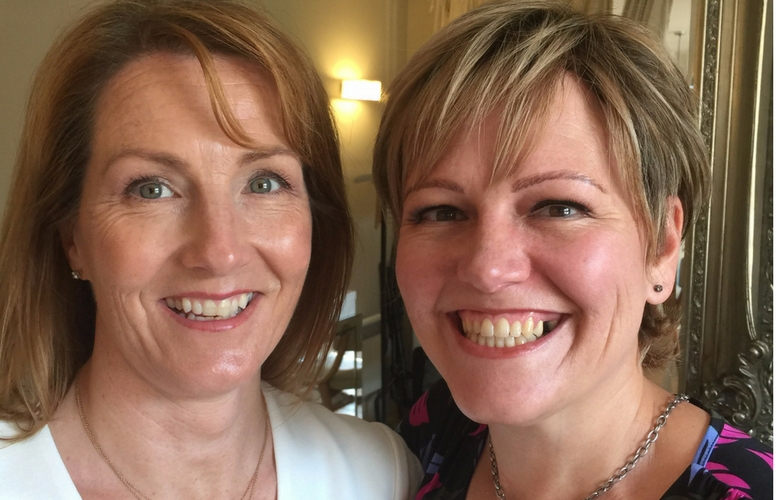 This is a series where we go out and have a Facebook Live interview with a local business owner. We talk about their business, what the story is behind why they started their specific business and how they are using social media to support their ambitions.
In this interview, we talk to Ellen Bletsoe, who runs her own Image Consultancy business from her beautiful studio in Thrapston, in Northamptonshire.
Ellen Bletsoe's background…
In the video, you'll learn about Ellen's journey to entrepreneurship and that she has had quite a tough personal path to choosing the business she specialises in today.
Ellen gained her Textile Design Degree at Leeds University and went on to work for an enviable list of catwalk designers like Prada, Hugo Boss, Boden and Hackett.
Her job took her to many places around the world and one of her favourite memories was of being given a personal shopping experience by Prada in Milan.
But, once Ellen started her family – she had to make a decision to change her focus to being a stay at home mum. Her daughter was diagnosed with Batten Disease which is a life-limiting neurodegenerative disease, and soon also went blind. Ellen decided to home school her and learnt braille to do so.
In the interview you will hear about Ellen's path of being a carer for 10 years, and working for the Batten Disease Family Association charity to help raise awareness of the disease and of course funds.
In 2015 Ellen got to a turning point and then looked at what her options were to regain the creative inside her and find a professional that suited what she wanted going forward.
If you have wondered about what an image consultant is or perhaps have heard about "getting your colours done" – then watch and learn all about the process.
Being a business owner…
Ellen talks to me about starting this business and how she is enjoying transferring all her learnt skills and experience to put smiles on people's faces. She is (at the point of this interview) only two years into the business, but is loving the feedback she gets and the partners she has fostered relationships with.
How does Ellen use social media in her business…
Ellen is really conscious that she was for a span of 10 years outside of the commercial world – and that she has started on the backfoot with the "digital age". None of the social media channels (as they are today) were that prevalent when she was in the working world.
I have been working with her on her strategy and she's slowly and steadily working through her action list. She has been brilliant at getting all her foundational elements in place and is starting to feel the fruits of reward in terms of time-saving and stress relief.
I hope you enjoy watching the interview
I have worked with Ellen – in terms of her digital strategy, but also I am one of her clients. It was an absolute pleasure to help showcase her professionalism and her approach to image consultancy to you in this video.
Remember that you can still ask questions on the recorded interview – she and I will still happily answer your comments and questions.
You can find Ellen here: Website | Facebook Page | Twitter | LinkedIn | Email
Here is the Live interview that we did on the 7th July 2017, on our Facebook Page:
If you would like to get a reminder or notification when our next Live interview will be – be sure to go over and "Like" our Facebook Page to get those reminders. We will be posting on Facebook, Twitter and Instagram about our next interview – which will be with Caroline Prout, a Clinical Hypnotherapist, based in Islip, UK.
You can also read my resource blog post all about:  Facebook Live and how to use it in your business.
Do you know a business who would be interested in being interviewed live on Facebook? We are keen to talk to businesses who are either enjoying the social media space or would love some insights into what they could be doing on social media. Contact me by email, Facebook Messenger or by commenting below.