Emerald green is the official Pantone colour of the year – so we can expect to see lots of green appearing across Pinterest Pins and Boards everywhere. As a designer I'm excited about 'Emerald Green being the new Black' this year.
While on the subject of trends I'd like to share my top 5 Pinterest and Social Media Trends and Predictions for 2013: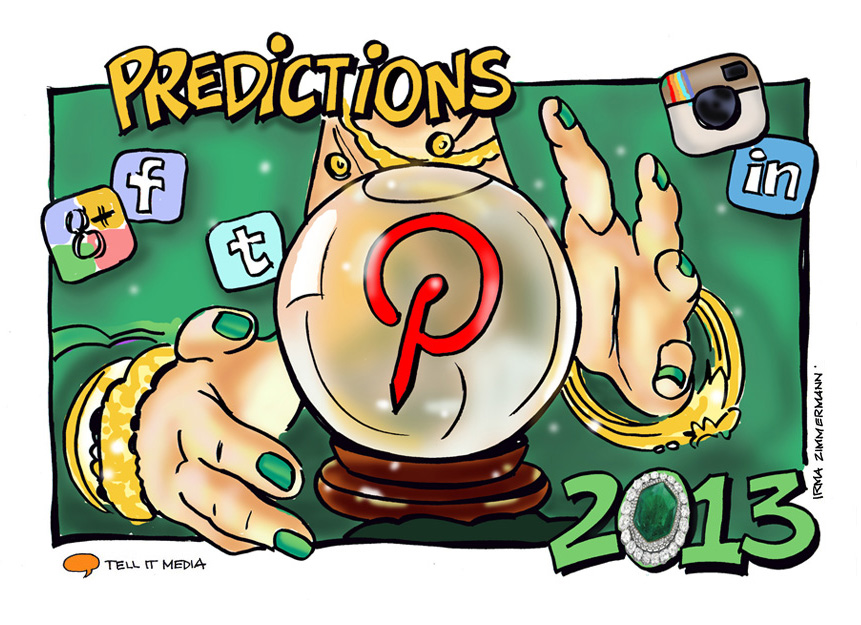 1. Seeing Is Believing – "Visual" Rules
The continued growth of Pinterest and Instagram, and the changes to Facebook Timelines all point to one thing – social media platforms are harnessing the power of visual communication [through infographics for example]. Visual content will increase and continue to dominate social content as humans digest more information faster than ever before. Visual content is easily digested (some use the term 'snackable content') and when done right (like Pinterest) is very effective at resonating with target audiences. Visual content can represent brands and ideas in a trustful way and with a feeling of authenticity.
2. Big On Brand Building
Pinterest users are following more brands than those on Facebook and Twitter. Pinterest has already proven to businesses that it can be a great lead generator, and launched its business accounts in November 2012. Overall, from the feedback I have found, businesses are becoming increasingly excited by the unique new branding opportunities that this launch presented. Pinterest stands out from other social media platforms by linking people through visual inspiration. Building tools to integrate with other social media systems will generate a huge added value for businesses, and reinforce Pinterest's growing status.
3. The Increased Move To Mobile
2012 saw a big move to deliver social media participation on mobile platforms. This was underpinned by Mark Zuckerberg's comment in September 2012 that Facebook had "transitioned" and was now a "mobile company". In fact Facebook traffic has now shifted from desktop to nearly two thirds mobile driven. Mobile is overtaking desktop in social media and reaches more social media users. As mobile begins to dominate – more Brands and agencies will look to reach and reward their mobile consumers. Pinterest and others will be expected to deliver on this.
4. Marketing With A Feminine Twist
It may once have been a man's world – but social media is showing to be more of a woman's world. Studies have shown that women are spending 40% more time on social media than men. Advertising and marketing agencies, being generally male dominated have overlooked this and need to become aware of the shift in their social media target audience. I think there will be a trend towards more women marketing to women. Pinterest will try to attract men by partnering with brands that target male consumers.
5. Shoptimisation
The term Shoptimisation refers to the leveraging of technology to help make the online shopping experience as smooth as possible. While social media isn't and never should be just about sales – online consumers will continue to use Pinterest for shopping inspiration. Already known as the Cash Register of the Internet, Pinterest will become a leader in Shoptimisation.
I look forward to sharing the journey with you.
If you have picked up on any trends that have stoked your interest – please do share them with me and our readers below.