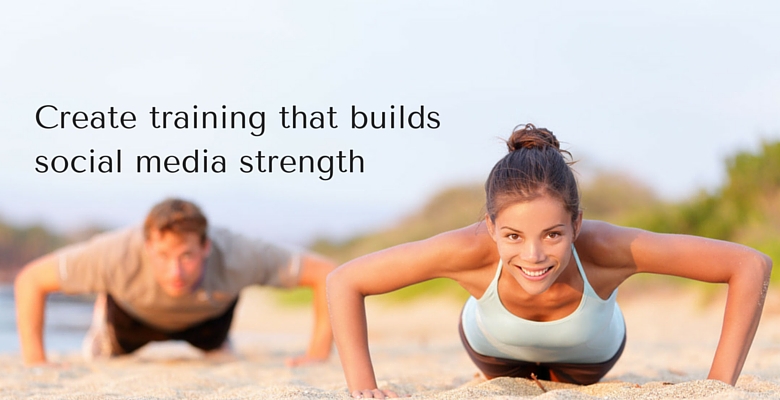 Once you have identified who it is in the organisation that needs to undertake social media training, the next thing to work out is how is best to carry out the training. Before you put your training session together there are few aspects to take into account:
1.What are the learning outcomes?
What specific working knowledge, skills or learnt techniques do you want the person to walk away with after the session(s)?
2. How much time can the individual realistically take out to do the training
Depending on where the person works in the business, you may have some restrictions on how long you can keep them away from the business. This isn't true for many roles – so don't take that as a reason to not have training.
3. What is their learning style
Everyone is unique in how they absorb learning and digest information. People in general sit within these broad categories of learning styles:
Visual – prefer using pictures, images, and spatial understanding
Aural (auditory-musical) – prefer using sound and music
Auditory – prefer using words, both in speech and writing
Kinaesthetic – prefer using your body, hands and sense of touch
Logical – prefer using logic, reasoning and systems
Social – prefer to learn in groups or with other people
Solitary – prefer to work alone and use self-study
I generally make sure that I cover the visual, auditory and kinaesthetic styles and then make sure I have exercises that cover some alone work (usually in prep before class and maybe one short one in the class) and then a group exercise to help those that like to engage more.
I found a great easy resource that goes into more detail on this subject for you: Learning Styles Online
4. What type of training do they need – knowledge, know-how or technical skills?
This means – do they need to:
absorb facts and new information
physically learn HOW to do something (plan, write, publish)
learn new technical skills (operating different systems, platforms, functions, etc)
By knowing the answers to those questions you will be able to work out what you need to have in the room on the day (extra plugs, laptops, tablets, mobiles or even wifi) and of course how long the session needs to be and how to structure the session according to your learning styles (from point 3 above)
5. Keep the session engaging, fun and relevant
Make sure you use the lingo that they are used to – within their industry, but also don't use too much social media jargon until you have established how proficient the people in the room are.
Do some research on what other businesses are doing in your industry – as well as outside of the industry. Some of the best ideas may come from a totally unrelated industry. Show proof of social media working well – by including this into your session, it gives them a purpose for being in the room and see that it isn't hocus pocus.
Then the training day arrives…
Ok, so now that you've established what the learning outcomes are, how long the session needs to be, what learning styles you will use and you've done your research – you can put the session together.
When the day comes of the training session – I would say try to make sure that before you start do this one thing:   Test the temperature in the room
I don't mean the hot and cold kind – I mean take the first 15 to 20mins to go around the room and get everyone to say who they are, what they do in the business and what they exposure is to social media right now. Plus – ask what they would like to get out of the day. Mark the last answers on a flip chart – this will give you a way to check-in at the end of the session and make sure that the people did get what they wanted to. This is also a time to manage expectations of what the learning outcomes will be.
By testing the temperature in the room – you can see where everyone "is" in terms of their understanding and practical skills. Then – you will know how to pitch the rest of the session.
Why I love training people on social media
I've trained a broad range of people across different roles and industries (both public and private) from 25 to 65 years old. I would say that the thing I absolutely adore about training is that every session is different (even if the content is seemingly the same). I enjoy handling the different limiting beliefs around technology and social media that come up and the fact that by the end of the session – I have a bunch of people who have contributed, engaged, are laughing and have taken away the learning they needed to – to go and do a great job of helping with the social media function.
As you may have picked up, I LOVE training people! I have lots of ideas and I use different ones for different businesses – after I know who is coming to the session. I tailor everything I do for my audience – so that they get the most out of the session and have a greater appreciation for the power of the social media channels.
Have you tried training your staff on social media – how did it go? Did something fantastic happen – or did it all just fall flat? Share your experience with me – I'm keen to hear the good, bad and the ugly. We all learn from each other – so please do give me feedback on how its gone for you.
Comment below if you have any training related questions or tweet me on @ShelleyRostlund.