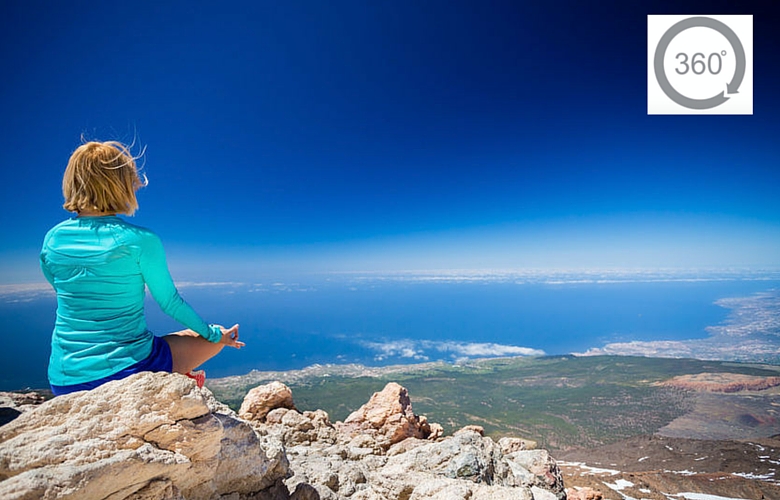 Facebook 360 rolled out in June 2016 and since then I've seen only a few flurries of 360 pictures, but more often than not people asking: "How did you do that?"
This is a little step-by-step help to get you going, so that you can be posting awesome 360 pictures today. Honestly, it is that easy – once you know how. I have listed the steps as well as done a little video to show you exactly how to take the 360 picture (on your phone) and then share it on Facebook.
Now, the thing to remember is that there are different levels to this whole new world of 360 images (and video). What I'm going to show you below is literally how you can do a Facebook 360 picture today on your mobile without much thought or equipment needed – except an "aha moment" of where you are going to shoot your image, and you capturing it on your phone and then finally sharing it.
Step-by-step Facebook 360 tutorial
How to take a 360 on your phone and how to share it on Facebook:
Open your camera on your phone
Select "Panorama" or "Photosphere" – whichever is your phone's preference
Choose the landscape / space that you want to shoot (try and keep people out of the picture for now – unless they can stand still for this picture taking)
Press "shoot" or the button that starts the photo
Move the phone from left to right (or – on the iPhone you can also go from right to left – just tap your screen where the arrow is and it will swivel the direction for you)
When the arrow has reached the end – click stop
Now the picture is saved in your photos folder
Come out of camera and go into your Facebook App (or if you want to share direct from there – fair enough)
Click to create a new post, and describe what you are about to share (always good to give your audience a bit of perspective of things you are sharing). Attach the image you have just taken and then click "done" or "share".
Your friends will now see the image you have shared and there will be a little icon on the image which will allude to the fact that it is a 360 image and that they can interact with it. (They can click on it and move it around.)
Your friends or Page likers can now interact with that image
Below is my 360 picture of Pitsford Reservoir which I shared on my personal Facebook account for the tutorial video. If you click on it and go to Facebook – you will be able to interact with it – by clicking and dragging your mouse:

There is a higher level to this
While you can just shoot an image you have taken from your Smartphone, you could invest in some equipment so that you take a true 360 image or video and then you can do things like this example from National Geographic. They did this 360 video and shared it on their Facebook Page:
If you click play, it will play in the window and the you can click your mouse on the video and drag it around and you can see how gorgeous this video is.
There are Facebook approved camera's that you can buy in order to be able to do this – here is a list of those camera's for you.
Have you taken any 360 /panoramic images which have worked well to get a response from your Facebook audiences? I'd love to see them – share a link to them below (as long as you made it a "public"post on your personal FB account I'll be able to see them).
Give me a shout in the comments below if you have any questions about how to take and upload a 360 image to Facebook.