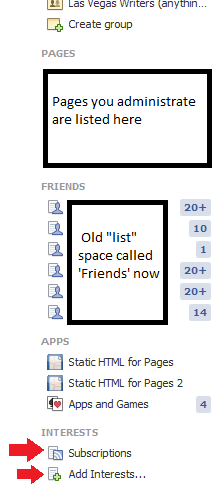 Earlier this month Facebook introduced INTEREST lists into their functionality and user's information filtering and selection experience.
There are a few things we thought you should know about these lists and why they are different to the old "Lists". In Twitter – if you are an avid user – you will know that you can create lists to attach your favourite Tweeters to, in order to help you manage your Twitter Stream better – and to be able to very quickly access that information at any point during your day and be up to speed with the people/businesses that you want to be. On Facebook (with old LISTS) you could do the same. The main crucial difference in the Twitter functionality was that their lists were public and any Tweeter could start following one of your lists of your uber special Tweeters by just a click of a button..
What this means in the "social graph" is that (1) you were giving other people kudos by adding them to a list…and also raising their profile so that (2) your followers who liked you and respected your opinion would choose to (3) follow your list of people (purely because you put them together in a list). So – as you can imagine if Tweeters of the likes of Guy Kawasaki, Mari Smith or Richard Branson stuck you on a list – you may attract a whack load more Tweeters (and go out and buy a bottle of Dom to celebrate). Incidently, because lists are public – if you were on someone's list – you would know about it and in fact it was included as one of your "facts/stats" when someone came to your Twitter profile home page. (I speak in past tense…because interestly this bit has now disappeared from Twitter with the new layout…i.e. where you could see if you were on someone's list.)
Now…enter Facebook's answer to this. The old LIST function on Facebook was private and you didn't know if you were on a list or not. Lists were really a way (speaking for myself here) of 'filing' the businesses and people I was following or connected to – so that (1) I could control what content of mine they saw through my Privacy Setting;, (2) I could decide if I wanted to only post certain elements to certain people, and (3) help me to quickly access the people/businesses who I wanted to get an update on….by clicking on the different lists to filter the information.
The new list functionality has altered somewhat, so that now there are two different functionalities on Facebook:
1. FRIENDS (= renames your old lists)
You can still create these types of lists and use them as I described above – the only real difference is that they have been renamed to be called "Friends"
2. INTERESTS (= new)
This is actually quite interesting (excuse the pun) because it brings the Facebook newsfeed on step up from Twitter's search now – in that you can do a keyword search on a topic that interests you and see some pre-populated lists that other people have put together on that particular subject.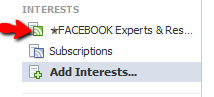 (Some Facebook staff have already put quite a bit in there – which you will see, as well as some prominent people like Mari Smith). You also create your own list of course…which anyone can find in this little library of lists now. You then subscribe to the list you want to and then it appears in your INTEREST lists – so you can click on it at any time. Have a look where the red arrow is in the picture on the left – indicating where I have subscribed to an INTEREST list (by Mari actually) called Facebook Experts and Resources. So, by subscribing you're not filling up your newsfeed…unless you want to. (I like being able to organise bits like this!)
Benefits For Business Professionals

:

The two main drivers I can see for business people making better use of their Facebook newsfeed is by using INTEREST lists as an information gathering/filtering method, but also for business page administrators to understand that there is this whole other universe of exposure that you can get as a content provider. If you have great engagement, a good "Liker" base and work hard to distribute useful and valuable content….chances are that you will be selected to go on these lists by your followers or fans….and if they are particularly influencial themselves, they will be rasing your profile.
Social Intelligence Verdict:

Keep It => Use It => Leverage It