After spending an inordinate amount of time going through Facebook's video tutorial and reading posts from all the clever people we follow in the industry, we thought we would put  a little summary together for you of what the changes (really) mean and give you a place to look for more information if you want to get into the nitty gritty of it all.
On 29th February 2012 Facebook held their very first Marketing Conference and launched the fact that Timeline will be rolled out completely by 30 March, and that it would include upgrading business pages to the new format as well.
We have upgraded our Page already and I've provided you with a screenshot of it below with some of the bits highlighted which I will talk about.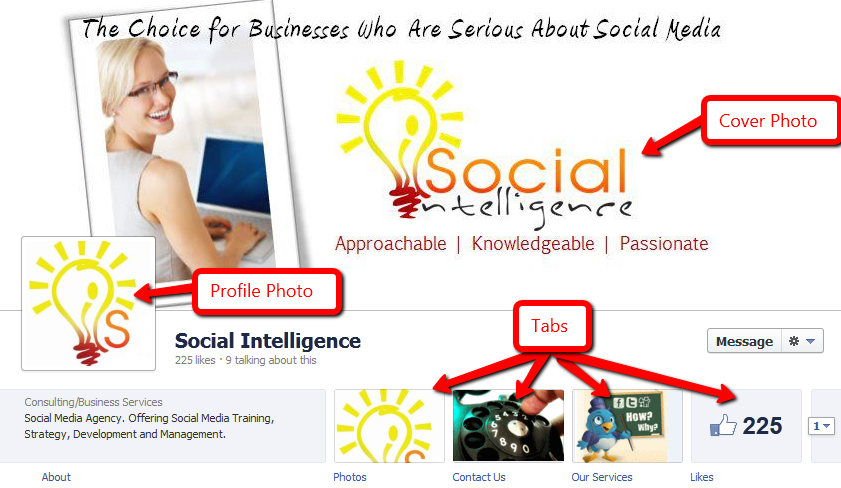 Here are some of the elements that will change as soon as you upgrade (you have the option to do that now if you want to).
(a) Visual Improvements
You will notice that you have more space to be expressive visually. You will have two images now – a Cover Photo (a big one) and a Profile Photo (a small logo space which follows as your thumbnail across the site). You will also have the opportunity to personalise the icons for applications (which used to be "tabs" or customised pages).
(b) No Longer Have Landing Tabs
You will notice that you will no longer drive new prospective fans to a landing tab or welcome tab any more. The Cover Photo is really meant to now be your "pretty hello" which tells prospective fans why they should like your page. Just know that you are not allowed to use any CTA's (call to actions) and selling "speak" in the design of your Cover Photo or Profile Photo. If you want to use CTA's then use the opportunity of the tabs boxes which you see highlighted in the image above. (Watch the tutorial from Facebook which I have provided below for you – very important rules relating to what you can and can't put into the Cover Photo).
You can have up to 12 tabs/applications, but only four will be viewed as above (you have shift and move them around…except Photos – which will always be first). Never fear – if you liked driving people to a landing tab – you can still do this via Adverts…and link the ad directly to the related tab/application. Once we all play with this a bit more – we'll also understand it a bit more.
I think this is a good thing – because, to be honest – I stopped caring about the welcome/landing tabs I was going to. I was more interested in the content on the page's wall – that made me decide whether I wanted to LIKE the page or not.
(c) You Can Highlight Content Like Never Before
Facebook allows you to plant historic milestones from your business – so that it truly is a "timeline" reflection of your business. You "pin" a great post to the top of your feed/wall/timeline for up to 7 days. Plus – if you want to, you can choose to have a particular post (which might be super for PR information or promotions or launches of new products) take up the whole width of the Timeline page (called "Starring").
(d) Your Statistics and Engagement – ROCK
Whenever someone comes to your page – they will be able to see which of their friends are engaging with your page (yay!) This helps the old "third party" verification…that your page and your work is COOL and re-enforces that this new person should LIKE your page too.
Some of your Page statistics will be visible now to visitors to your Page. (I need to play more with this before I tell you what those are!)
 (e) You Can Message Your Fans – Direct from Your Page
This is BRAND new and many people are very excited about this. There is talk though that this functionality is more for a Page admin to have the ability to receive some direct customer service related questions and or problems – so that it removes it from the public eye. And the element to watch out for is – actually a Page admin will only be able to communicate with a fan that has messaged the Page FIRST. But…I'm sure we'll have to watch this one to see if this is true (i.e. you can only message someone who has messaged you). I think that it maybe – because Facebook has always been about fans and content first….and not self-promotion. (In case you had already started to think about how to flood your fans with messages!)
Anyhow – that should give you a good start on what Timeline means for Pages. There are loads of other useful blog posts that you can read more into if you so choose and we've listed some of them below for you:
HyperArts – Facebook Timeline for Pages: FAQ's
Facebook – Video Tutorial: Learn about Facebook Timeline for Business
Simply Zesty – New Facebook Timeline for Brands: Video Demo and What it Means for You
We are busy updating our webpages relating to our design of service to incorporate the change to the new Timeline Format – but if you are interested in finding out more about how to get yours designed – please call me (Shelley) on 07789 554 119 to find out how we can help.