The brain is a live muscle that thrives on being flexed and pulsed in order to stay healthy and grow. What we tend to forget in our everyday lives is that it is not only what we know that defines us…but also what we create and what we experience. It's this creativity and kinaesthetic behaviour that contributes to our brain's flourishing growth.
What does this have to do with social media? Well – it really comes down to – don't just "tell" your audience about what it is that you do – spin them a story, using their words (or some hypnotic ones yourself) and put some flare into it! This is what will make your content stand out.
For me, imagination is a very big part of my make-up and what motivates me to do things or to achieve things. Sometimes my imagination is what saves me when I am low and feel as if I'm buried in a dark hole of impossibility. (Yes, that means…having a bad day!)
The adage "You can be whatever you want to be" that I was told as a kid has stayed with me, and at the heart of that – is learning to mix the world of possibility (that imagination provides) and spicing it up with knowledge that you can choose to learn or share with others.
I have always held a strong belief that people who consistently exercise their imagination (in any small way) – have the ability to overcome some of life's hardest knocks or challenges. If you can paint a scenario or scene in your head where your heart and mind are transported to a place or a feeling…where you are jubilant, enthused, excited, peaceful or even motivated – you are half-way to altering your present state. The trip your imagination has taken you on, more often than not, has given you a burst of renewed vigour or energy to make what you are dreaming about a reality…even if it's just to take the actions to move you closer to that reality.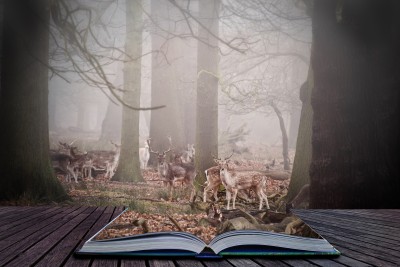 Knowledge is, for me, secondary to imagination. Knowledge is the Knight's sword that may well be the edge that wins a battle…however it's how the Knight chooses to approach the use of the sword and how he envisions his end goal of that battle which will be the strength behind his actions.
I will also say though that imagination and knowledge are partners and to some end – one may be more prevalent than the other at times – the key is that they are empathetic to each other at all times.
Dreaming is one thing – making them a reality is another. Try to stimulate your audience's imagination and give them the trigger to connect or contact you – sometimes the thing that will set them off, is purely how you shared your story or even in the technique of story telling.