Video continues to be a big growth area and most businesses should be looking at ways to leverage this very "search friendly" medium. Video has always been a great medium for communicating your business message but 2013 heralded the rise of a new wave of video capturing with video sharing applications like Twitter's "Vine" and Facebook's "Video for Instagram". Mainstream adoption of smartphones and tablets to record these video snippets and the importance Google now places on video content in search rankings means video is very much back in focus for 2014 too.
So how are short video clips are being used in Social Media for business? The best way to answer this question is to give you two great examples.
Burberry uses Video on Instagram for video 'snacks': it gives their 'dedicated followers of fashion' an exclusive behind-the-scenes look into their fashion shows. This short clip captures some of the sophistication of their iconic brand from make-up to runway:
Cadbury's UK on the other hand have chosen Twitter's Vine to post regular video content ranging from how to make a chocolate torte to a "Thank you" stop-motion video using chocolate. The tone of this short clip is more fun, frivolous and 'down-home':
Businesses can use these types of short video clips to communicate:
"Behind the scenes" (At your company/event/shoot…)
"Teasers" (Of a new fashion line/product/service/recipe…)
"Adverts" (Like TV but much shorter)
How do you know which to use for your business?
To help you decide, I've put together a list of the main differences between the two platforms below: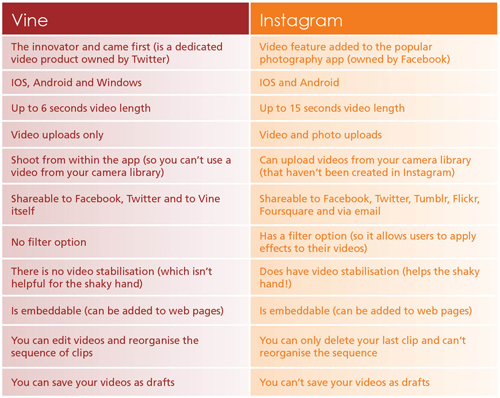 Summary
If you want the flexibility to record longer clips with the option of filters and more places to share, I would suggest looking at Instagram. However the ability to save your videos and reorganise the sequence of your clips in Vine, means you can afford to come back to your videos and are not under as much pressure to perform/record live.
Both apps are potentially valuable in producing content 'on the fly' for business of any size. Just don't ignore the fact that many of the excellent videos you see on Instagram and Vine have been planned and executed with many takes, to get the best lighting, timing, etc. (So businesses may have hired agencies/producers to help them)
Ultimately it's talent and training (not tools and toys) that get results, but if you've got the creative bent, time to learn and keep up a regular stream of output these micro-videos could be a great boost to your content marketing efforts.
Still wondering which one you should use? Pop a question below and I'd be happy to help where I can.