Richard White is the franchisee for the Yorkshire group of The Academy for Chief Executives (ACE).  We worked with Richard to design a website that would provide him with a digital business card to share with new potential members of his group, as well as something he could be proud of in his marketing. The Academy for Chief Executives is a franchise of peer groups, the members of which are CEO's, MD's and senior leaders in business. Our project with Richard involved developing his own local optimised website presence, apart from the Franchisor, as well as put together a social media strategy to compliment the great work he and his team do with his group in Yorkshire.
Client:
Business Type:
Business Size:
Employees:
Service:
RJW Consultancy Ltd (ACE, Group 50)
Peer networking business group
Under £100,000 pa
2
Website Design & Development, virtual assistance and ad hoc consultancy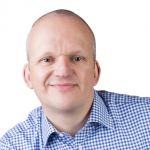 Some feedback
Richard White:
I am so delighted with my website – it does more than I ever thought and says all the right things about the Academy in Yorkshire. I have loved working with Shelley, her energy and attitude are really infectious and she has really helped drive this website project forward.
What is the one thing that gives you a huge sigh of relief to hand over to Social Intelligence to do for you?
All the details, images and content needed to put the website together. Shelley and her team handled all the logistics and all I had to do was review elements and approve the go ahead on each stage.