About this Blog Series – " Small Businesses – Piping Hot on Social Media": The posts you will read in this series showcases small businesses who have felt the direct benefits of using social media in their businesses. We have been following their progress over the years, and we can see that they really are piping HOT in HOW they use it.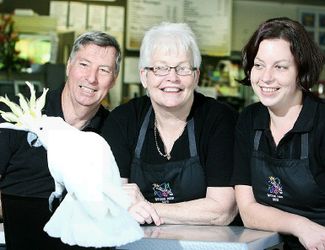 Business Name:       Queen's Park Cafe
Meet Jody Goodsir (far right in picture). She is the general manager at the Queen's Park Cafe…a family run business which she operates with her Mom, Sharon and Dad, Kevin. The business started as a small Kiosk (across the road from where it is now), but today is a gorgeous cafe right in Queens Park in Ipswich, Queensland, Australia. They celebrated their 10 year anniversary last year. (See an article about the history of the Park and the Goodsir Family here.)
This business caught my eye as a result of my social media manager colleague connections on Facebook and I really have loved following their business page and seeing what they do with social media. I asked Jody if she wouldn't mind chatting to me a bit more about how they came to be using social media so well and what it has done for their business. You can check out their business page on Facebook here.
Me:   Hi Jody, thank you for your time today – its great to meet you finally! Let's start with asking you about the cafe…what do you offer?
J: Hello Shelley, thank you for asking me to share our story with you. We are really chuffed to be chatting to you and to be of course sharing how important social media has become to our little business. Our cafe is a licensed restaurant, function venue and we also provide a catering service.
Me: Lovely! Wish I didn't live so far away – so I could pop over! Who would you say are your target market of customers?
J:  There are really four distinct groups of people who visit us and those are:
Women between 28 and 35 (we call them our 'Mommies Groups' – they bring their kiddies in with them)
Senior Citizens (they love a good cuppa!)
Middle Socio-Economic men and women between aged between 28-45
Tourists (our Park is gorgeous, so it attracts many tourists)
Me: Wow – you have done your homework – that's brilliant and key information to know for marketing. Now, when did you first discover Social Media?
J: If I had to really think about it, it was probably around the middle of 2009. We played with a Facebook Group, but we didn't really know much about it all and what the difference was to a Page. Then towards the end of that year we created our existing Page on Facebook. But, like most, we struggled to get the design right and make it look professional – we just didn't have the know how. That's when we met our current social media specialist – Amanda Foy, and she really bolstered our activties and helped us with a professional communications strategy.
Me: Amanda (from Foysters Communications) is a great lady, lots of talent and super specialist on Events and Functions. So you are only on Facebook at the moment, so obviously this is working for you?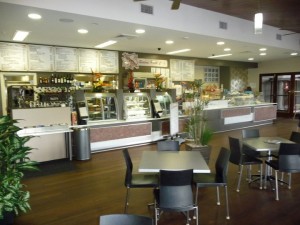 J: Yes, we love Facebook – it allows us to communicate quickly and on the spur of the moment if we want to (with special events or offers) and it gives us the opportunity to post more emotive pictures and statements. Our venue is a destination venue – and we keep that in mind always.
Me: Now, I know that you have had one particularly GREAT example of the power of social media recently and how much engagement you can actually get from an audience on a post. Would you like to share that story with us?
J: O, yes! Well, early in January this year we had someone leave a camera memory card behind in our cafe. When we had a look at it to see if we could identify whose it was – we couldn't! And….we found that it was actually a whole album of wedding photos! So, we posted a comment on our Facebook Page (see original post here) together with one of the pictures of the couple and put out an SOS to ask if any of our Fans knew who they were. In a matter of hours we had 109 comments, 285 shares and 66 likes on that post alone. Everyone pitched in with different advice, and tips on how to find the couple so that we could return the card to them – it was so heartwarming! We managed to get it back to them in the end. It really showed us the power of people and giving them a tool like Facebook to flourish on.
Me: I was so caught up in the search myself and I am thousands of miles away. Thank you for that Jody! You guys are caring too – otherwise none of that would have happened. So with this story in mind and your activities since 2009 – what results would you say you have gained from using Social Media in your business?
J :  We definitely feel an increased awareness for our cafe, as well as the massive amount of being even more involved in our community by the information we share. The cafe is part of a large 'tourist' opportunity in Ipswich and to be honest we don't get nearly enough promotion and coverage as a tourist destination as we should do. We were able to claim the "Place" for Queen's Park which was well established – which was a "coo" in itself.  Facebook has definitely helped generate feedback from customers that normally we would not get.
I will also add that the Facebook Insights and the physical customer feedback (likes etc) are invaluable to our business and it costs nothing as it is all a part of the Facebook system.
Me: Great work on nabbing the Place page! What are your Social Media goals for 2012?
J:  Well, we want to keep doing what we are doing and increase the awareness of the cafe and the services we offer, plus we would really like to embark on more competitions and make more use of "check-ins" in those competitions – our ultimate goal is to increase bookings for licensed dinners.
Me: Jody, if you had to convince someone  who was thinking of  participating in social media  for business  – what is the one point that  you would want to get across to encourage them to do it?
J: Make sure you work with someone who is a professional in this arena (like yourself) – because, there is too much for a business owner to know (and properly) in order to get it right. You need a plan, a strategy and of course your branding is very important. Social media is not a gimic or a game – it is a media channel that needs to be taken seriously.
Me: What are your top tips for using social media in business?
J: Integrate it into everything that you do and make sure that everyone knows you are on the platforms – put it on your signage; business cards; leaflets; adverts; etc. If you don't – it will be like speaking to an empty room where you forgot to invite anyone to the meeting.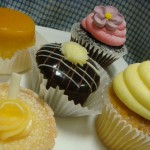 Me: Thank you Jody! I'm sure everyone who reads this interview will really get how Social Media has shifted your business and continues to help support your marketing efforts and community involvement.
J: Thank you for having me Shelley – and if you are ever in Queensland – make sure you pop by for  one of these! (See pic on left)
Me: DONE, DONE, DONE!! (**tummy rumbling**)
_________________________________________________________________________________
Jody and her family (with the help of Amanda) have achieved 922 "check-ins" and have 573 fans (as at the time of this blog post) – their fan engagement is fantastic and if you run a business in any way similar to theirs I suggest you have a look, get some inspiration and get going!