About this Blog Series – " Small Businesses – Piping Hot on Social Media": The posts you will read in this series showcases small businesses who have felt the direct benefits of using social media in their businesses. We have been following their progress over the years, and we can see that they really are piping HOT in HOW they use it.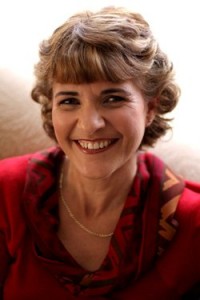 Business Name:       Interim Business Solutions
I first met Kirsty Wilson on Twitter about 3 years ago. We had similar followers and somehow we found each other and we have been connected ever since. She is based in Melbourne, Australia – providing virtual administration and social media support services. Follow her @kirsty_wilson on Twitter or via her business page on Facebook.
Kirsty is one of the glowing testimonials for what the true value is in social media – connecting authentically with people and maintaining the relationship consistently over time. I interviewed Kirsty for this blog series purely because if there is anyone who has measured the impact that the world of social media has had on her business world – Kirsty has.
Me:   Hello there Kirsty! Let's start at the beginning – who are your target market?
K:      G'day Shelley! My main client base tends to be SME's and solopreneurs who require support but prefer to outsource than have an employee. Also, I am in the fortunate position now where I can afford to be a bit picky about who I work with – so I will also say that I prefer working with smart, tech-savvy business owners who understand how to use the virtual space.
Me:   When did you first discover Social Media?
K:        I joined LinkedIn first during Sept 2008, followed closely by Facebook. Both were joined for business purposes and Facebook I joined rather reluctantly! I then joined Twitter during December 2008 after my brother was raving about this new find. Twitter was what made Social Media make sense to me completely (I know its different for everyone, but this platform really did it for me). It was here that I quickly made new, relevant and fantastic business connections (including you Shelley!) I would never have thought 3+ years on the these 3 platforms would have such an impact not only my business but my whole life. Some great friendships have been formed also.
Me: Which Platform is your favourite one to use and why?
K:  I am torn between Facebook and Twitter. I use them very differently and they serve quite different purposes. I was certainly addicted to Twitter in the early days and never quite had the same passion for Facebook but I love Facebook as it's more personal and you see pretty pictures!
Me: Which Platform is your least favourite one to use and why?
K: I'm still trying to slot Google Plus into the mix without just duplicating what I've already posted elsewhere. I love the layout of Google Plus and the drag/drop to create circles but at the end of the day, it's another thing to maintain. My philosophy is to do fewer, well!
Me: What results have you gained from participating in social media (so far)?
K: Actually I have kept a very clear record of this – I even did a blog post about it when I got my 100th enquiry from Twitter (read that full post here if you like). I've had great success with Social Media and Twitter in particular as lead generators. To date, I've had 134 enquiries with 61 converted. You can see more detail in this graphic I put together: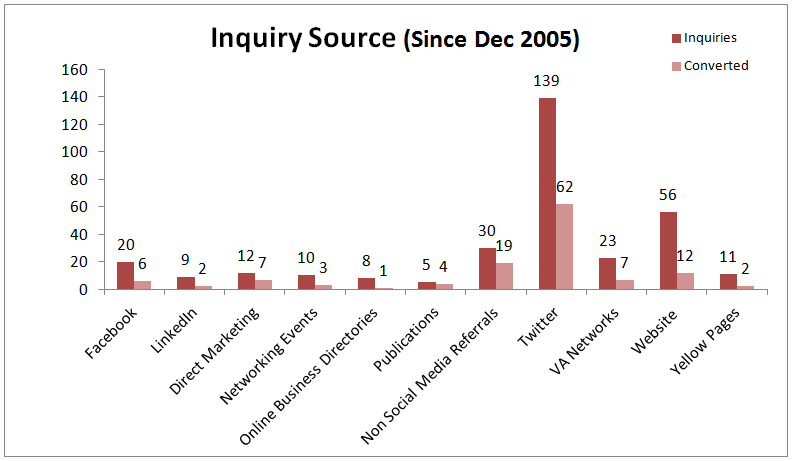 Me: Wow – that is phenomenal and real evidence! So what are your Social Media Goals for the coming year?
K: To be honest, I have no real planned goals or strategy. For me, it's always been about organic relationship marketing and networking. The main goal I would say I have for myself is to ensure there is time to keep it up and maintain all the good work I have done in creating these relationships. Unfortunately I've found that social media =  great connections = lots of enquiries = lots of new clients = too busy for social media. Ironic hey!
Me:  If you had to convince someone who was thinking of participating in Social Media for business – what is the one point that you would want to get across to them to encourage them to do it?
K:  I would say to them that if they engage, they will expose their business and if they do it well, they will be memorable …and the world is at their door step!
Me: What are your top tips for using Social Media in your business?
K: Engage and share. Plus…install and use tools to make content creation and sharing more efficient – e.g. Google Alerts; Paper.li; Scoopit; Hootsuite and Buffer, etc.
Me: Thank you ever so much for your time and sharing your story with us Kirsty – as always we'll continue to follow and share with you on our social media accounts and on Skype!

K: Thank you for asking me to share my story – I love letting other businesses know that there really is value in Social Media – you just have to be patient and WANT to find it!
___________________________________________________________________________________
Since our interview Kirsty has had even more stats to add to her table she provided above! I thought I would also share this vodcast she did with Business Victoria where she shares how she uses Social Media in her business: