Let me start with saying that I am naturally an impatient person, so for me…if you want me to learn something fast, my rule of thumb for most things is:
make it simple;
map out what this new "thing" will do for me (I think visually); and
how it will make my life easier
So, I will say to you that if I could only access social media on my laptop – there is more than likely a chance that I wouldn't actually build it into my day or see the use for it. I have quickly realised that our world as we know it has changed significantly – and even more so just in the last two years. Smartphones and tablets have shifted our web behaviours widely. .. in the home and at work. So much so – that now…as I review my technology (software, applications and hardware), with an eye on "upgrade time" coming up (the 2yr one I get excited about – for my phone;  and the one I kind of dread…laptop renewal at the 4 year mark) I am asking myself:
What do I actually use all these gadgets and software for…and what has changed?
Before – I would just search for a new laptop…just because I "needed one" and check out the latest phone …because I want it to last the 2 years until the next one.
But now…(dramatic dot dot dot) – things have changed a lot. I am paying more attention to what's on the market now, so I decided to draw out what I do each day with these different gadgets and what are the uses I need covered by my tech…based on my working lifestyle and my business. I also highlighted where I saw gaps and could do with a solution to.
This is what my diagram looked like in the end: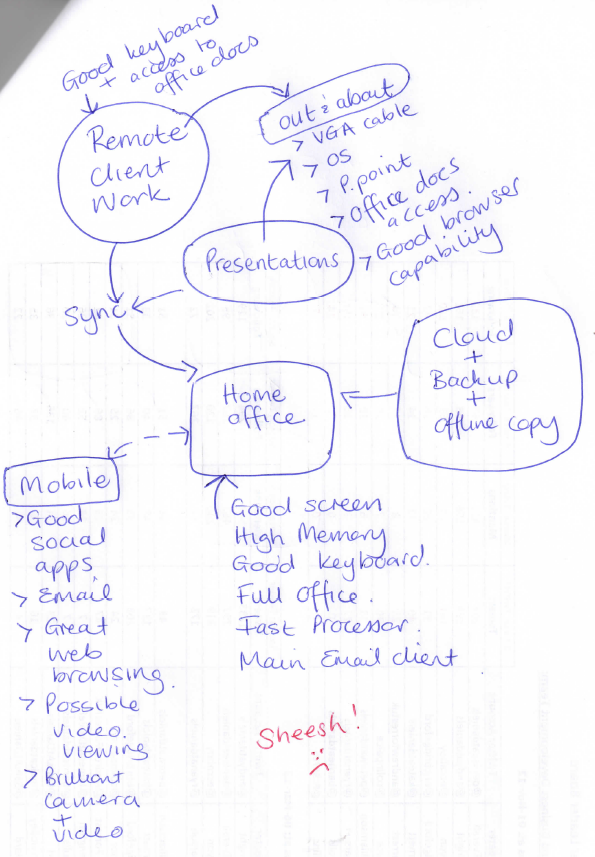 So – my tips to you:
Map out what your typical work week looks like
Work out what you want your tech to be able to do (what annoys you that it doesn't do now)
Then match that with the latest technology available to you
Then decide what hardware it is that you need to get
Make a decision about where you lie with Microsoft, Apple and Android – I think you can do a healthy mix – as long as everything sings together where you need it to.
For me – technology makes it possible for me to work easier and simpler. Perhaps it can do the same for you? If you are techno-phobe…I will say to you that most technology today (software, applications, hardware) is designed to be dead simple and intuitive – so have a go. You won't regret it.