Emotional intelligence has for many years now been accepted as one of the critical determining factors influencing leadership success.  We are talking about leadership in the widest context; our ability to lead ourselves, lead our life, lead our business and lead our people.
"Emotional Intelligence" is defined by Daniel Goleman as the "The capacity for recognizing our own feelings and those of others, for motivating ourselves, for managing emotions well in ourselves and in our relationships."
American psychologists Mayer & Salovey in the 1980s first defined the phase Emotional Intelligence and Daniel Goleman built on their work in the 1990s and in 2002 produced the classic EI framework.
The emotional intelligence quadrant defines the four key competencies that enable a person to perform at their optimum in any given situation.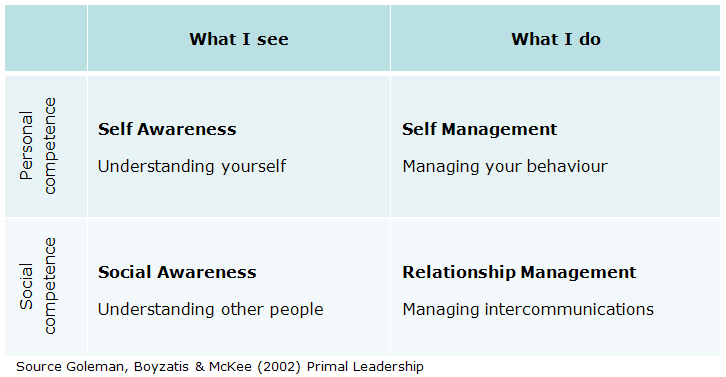 Social intelligence comes from our ability to be socially aware and to manage our relationships intelligently: the ability to pick up on emotions in other people and to work out what's really going on with them; to appreciate another person's perspective; to understand and appreciate the impact of your communication on others; to cultivate rapport and be attuned with a broad diversity of people; to manage interactions effectively; to engage with others for mutual benefit.
In their article Social Intelligence and the Biology of Leadership, Goleman and Boyatzis propose that "leading effectively is less about mastering situations-or even mastering social skill sets, than about developing a genuine interest in and talent for fostering positive feelings in the people whose cooperation and support you need."
They go on to define social intelligence as "a set of interpersonal competencies built on specific neural circuits (and related endocrine systems) that inspire others to be effective." What is new about their definition of social intelligence is its biological underpinning, by which they explain how to translate newly acquired knowledge about mirror neurons, spindle cells, and oscillators into practical, socially intelligent behaviours that can reinforce the neural links between you and your followers.
However and whenever, we are communicating we each have the opportunity to communicate with emotional and social intelligence.  We can consider the intention for the communication and decide on our outcome; we can pay attention to the impact of that communication on others and then flex our delivery; we can seek feedback and monitor the response.  By developing a heightened awareness and sensitivity to our communication strategies we can develop and sustain fulfilling relationships in all manner of contexts.
Whether we are communicating face to face, over the telephone, via email or using one of the social media platforms communicating with social intelligence will impact on our success.
Social Intelligence Limited provides advice, guidance and educational products and services to help you connect and engage with people in a socially intelligent way.