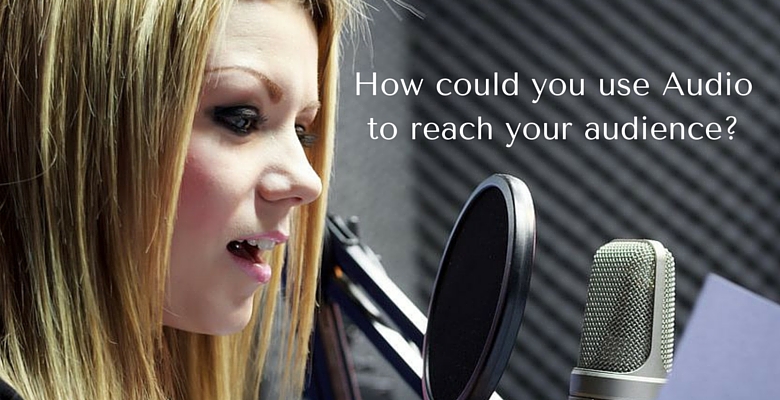 Podcasting is on a growth trajectory (supported in Social Media Examiner's April 2014 Social Media Marketing Report) and should be one of things you want to learn more about this year.
A 'podcast', as a basic definition, is a digital file – an audio file (mp3) that people listen to via their mp3 player (iPod or similar); smartphone; tablet or computer. If you produce a podcast – you would do so in order to share your expertise as part of your content strategy as an expert in your field.
The idea is to not do this as a once-off activity – but as a consistent route to sharing your story, skills and knowledge regularly – as you would do across your other channels (like blogging, Facebook, Google+, etc).
Once the audio file is created, it is then uploaded to services like iTunes or Stitcher where it his hosted and syndicated. You can also embed the podcasts into your website or blog. Its worth noting that you can of course use video within your podcasting strategy.
What is the benefit of creating podcasts?
Social media has created this massive online space for content consumption and sharing. If you haven't considered using audio as a route to sharing content in the past – now is the time to really look at it. Everyone digests content in different ways – so by creating audio, you are ensuring that you are maximizing the reach and consumption of your content and who will engage with it. (So, you are not just creating visual and textual messages…but audio ones too.)
How do you create a podcast?
The process is different for everyone and will highly depend on the technology you wish to use and the route you want to take in terms of managing how people subscribe to your podcasts.
The best resource I have ever found that really explains the whole process from start to finish is Pat Flynn's How to Start a Podcast – Pat's Complete Step-By-Step Podcasting Tutorial. It's a long post – but it holds everything you want to know about the "how"…including the equipment and services to use that he has tried and tested (it even has videos as well). He has a very successful podcast show himself that has surpassed 12.5million downloads – so he knows his stuff.
If you are the kind of person who likes to just throw themselves at something to learn it – then I would suggest doing Viv Oyolu's 15 Day Audio Challenge. I did it and it was incredible how easy it can be to just get up and running – all I needed was my iPad, some paper, a pen and a free Soundcloud account. Viv is an Audio & Podcast expert who I had the great fortune of meeting at a conference in London last year – a vibrant and eloquent lady.
So, my "sound advice" for you (see what I did there) around considering the Podcasting route is:
1. Think: targeted, meaningful content
Think about what you want the podcast content to convey and to whom. There is no point creating content that doesn't satisfy a burning need, pain or challenge for your audience.
2. Time
Remember the environment in which your audience will be listening to the podcast. Time is something that will make a different between winning and losing your audience. Have a listen to other people who are creating podcasts either for your market or for another – test what you like about it (length, tone, structure
3. Translate listeners into customers
Much like other content creation, I suggest blending your podcast content into the rest of your digital planning. How does it:
drive enquiries?
increase your email list?
blend with your blogging strategy?
educate your audience on subjects close to their hearts?
I don't have a podcast myself, so I have been researching this just as much as you may have. I am busy listening to various podcast shows from people I look up to like Amy Porterfield ("Online Marketing Made Easy") – she does a great job of blending the podcast with her website and other content.
Let me know if you decide to do a podcast – I'd love to hear it! Or – have you already got a podcast show and want to share with my readers how its going and what you have gained from doing it?