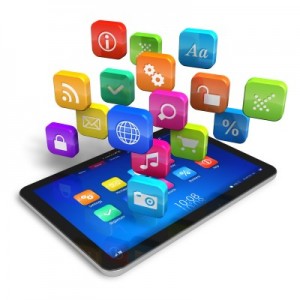 In my training with clients – whether they be newbies or half-pro's, there inevitably comes a point where I need to illustrate the difference between these terms – because it starts to muddy the water. So, here is my very simplistic definition of these three terms which may or may not help you work out where your social media activity/loyalty sits.
Application or "App"
An application (in this context) refers to a special kind of software application (or program) that is used on a Smartphone or mobile device. However we also get apps that are web-based (or online) that we can use on our desktop computers.
Really what it means (in a practical sense) is a shortened version or tool that we can use "on the go" (like in the instance of our social network apps) or use as handy online tools direct via your browser – or (which I prefer) is the desktop app of tools like Evernote or Dropbox – where it does sit on your desktop…but does depend on you being online to have the most up to date data.)
Think of apps like Evernote, Dropbox, Hootsuite, etc on your mobile or tablet.
Platform
This is usually the fully functional website …in this context…going to www.twitter.com or www.facebook.com or www.linkedin.com. While the app for these sites offer quick easy use/access…it doesn't offer you the full use and functionality that you get by going direct on to the platform itself. (For example…as at the time of this post – you can't edit your profile details, create new lists, etc)
Social Network
This is a tricky one…because some people may share a different view to me – but I'm old school in terms of the definition of what a social network is. So, my definition of a social network is:
A website/platform that is developed for the main purpose of everyday people to publish content that can be shared (with a network of friends) and can be interacted with (i.e. "Liked", commented on or shared).
So…for me…websites like Facebook, Pinterest, LinkedIn and Twitter are social networks because their biggest focuses are on: users or members building profiles that are interesting in a variety of ways; create communities of friends/followers; publish frequent content (many types); and have that content shareable and valuable.
The apps like Instagram etc are facilitators of content…i.e. that are then distributed through social networks (i.e. using the large communities who are already heavily using those platforms).
I will grant though – that within the photo sharing type apps like Instagram– there is the ability for people to communicate between themselves and create communities around interests. (Therein lies the trickiness!)
In Summary:
Just think of apps as tools or short methods to access fuller programmes or websites (like platforms) or help with the distribution or sharing of content (if you take one point from this post – that may be it). You know what? Sometimes I prefer apps…because it seems as if the designer actually zones in on what the user wants from the site being designed…so for example I prefer the Tablet App for Lovefilm.com, because the fuller website is too busy and I can't get to what I want quickly. (Yes, I am impatient – but that comes from years of online experience!)