Do you sometimes feel like you are writing to a big black dark hole…and you never really know if there is someone on the other side?
Writing blog posts can feel like this, however – there are some simple tricks that you can put in play, so that (1) you feel a bit more valued as a content provider and (2) so that you know if anyone is actually reading what you are putting out there.
There are a few conventional ways, which…if you match with some easy tech and human relationships – you will instantly have some measurements that can give you some encouraging feedback.
TRICK 1: Subscribers

Are you giving your readers really obvious ways in which to subscribe to your content? Ideally look at using Feedburner to manage your subscriptions (there are others – but I prefer this one). Personally, it puts me off if a blog I like only wants me to subscribe by email (because of how I manage my inbox) – so I am less likely to subscribe. With Feedburner it allows your readers to choose how they would like to subscribe (email, reader or RSS through their inbox specified folders).
TRICK 2: Google Analytics

Yes – this is the simplest way to see whether you are getting any visits to the blog post pages on your website. You will notice that the length of time that the visitor spends on the page will be significantly higher than other visits. (This is one of the main reasons why you must make sure that your blog is intergrated into your main website.)
TRICK 3: Promote and Shout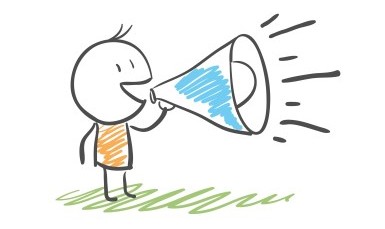 I see more sharing and reading of our posts if I ensure that I have a campaign that runs with every blog post that we publish. What that means is – you have a system whereby each time you publish a blog post, you have tweets going out that shout out that the post is out there…(well written tweets that encouraging clicking)..and you are doing matching posts for your other social media accounts to run alongside the post publication. This way you are not only getting the readers who are subscribed….but you are constantly putting it out there for others to see and hopefully pass on. (Note: the updates, tweets and posts would be spread out over a period of time…not just on one day!)
TRICK 4: Human Beings
Remember that "social media" means in practical terms: collaboration and sharing. Find two or three people in your social following and build your relationships up with them. This way you share each other's content to your networks and that increases the readership reach of the work you are putting into your posts. This may mean formalising a collaboration partnership with like minded professionals who you admire in terms of their expertise and you are happy to share their content with your followers. Remember that your followers follow you for a variety of reasons – and hopefully good content is one of them.
TRICK 5: Encourage Sharing

This is a bit of tech to include in your blog structure. We use "ShareThis" (plug-in for WordPress) for our blog post sharing. I like how easy it is to use and that it is really great visually to encourage my readers to share the content on any platform that they would like to (you can see it right under this point). Make sure you include Pinterest into your sharing options – more and more people are Pinning great blog content. (FYI – from our Google Analytics I can see that Pinterest referral traffic is fast becoming our biggest referrer..and that people are spending up to 15minutes on our site when they come through Pinterest!)
____________________________________________________________________________________
As ever – I hope that helped answer that question for you. Please share this post with someone who you think could do with the knowledge. Sharing is caring! If you have any questions about the above – pop me a comment below – I'd be happy to help.